Post-war expansion
In the post war years the Group went through strong period of expansion with the Cub Pack growing to 60 Cubs, The Troop to 55 Scouts, Senior Troop to 20 and the Rover Crew at 10. All sections were doing well in District and County competitions with many wins to their credit. The Troop and Senior Troop were successful in the National Sea Scout Regatta, The District inter Patrol Competition, and Camping Competition. The Cub Pack were also wining the Totem Pole Competition and Inter Six Competition, whilst the Rovers Crew brought back the Holman Trophy, Warrington Baden-Powell Trophy, Veterans Trophy from the Longridge Regatta and a win in the Arun Canoe Race.
A new headquarters
In 1953 the Group purchased a piece of land in Cunliffe Road from Messrs Lamb & Sons Ltd and began clearing the land. A first the Group put down a base and bought and erected a concrete 'Marley' garage to house their camping equipment. They then had plans drawn up for their new proposed Headquarters and Arthur Powell a parent of one of the Cubs under took to oversee the building of the HQ. The foundations and walls were built by professionals and the remainder of the building work was carried out by Scouts, Scouters and Parents. The Rover Crew using their seamanship and scouting skills raised the roof into place. Finally the building was opened in 1960 by Surgeon Captain Francis Lamb founder of the Group.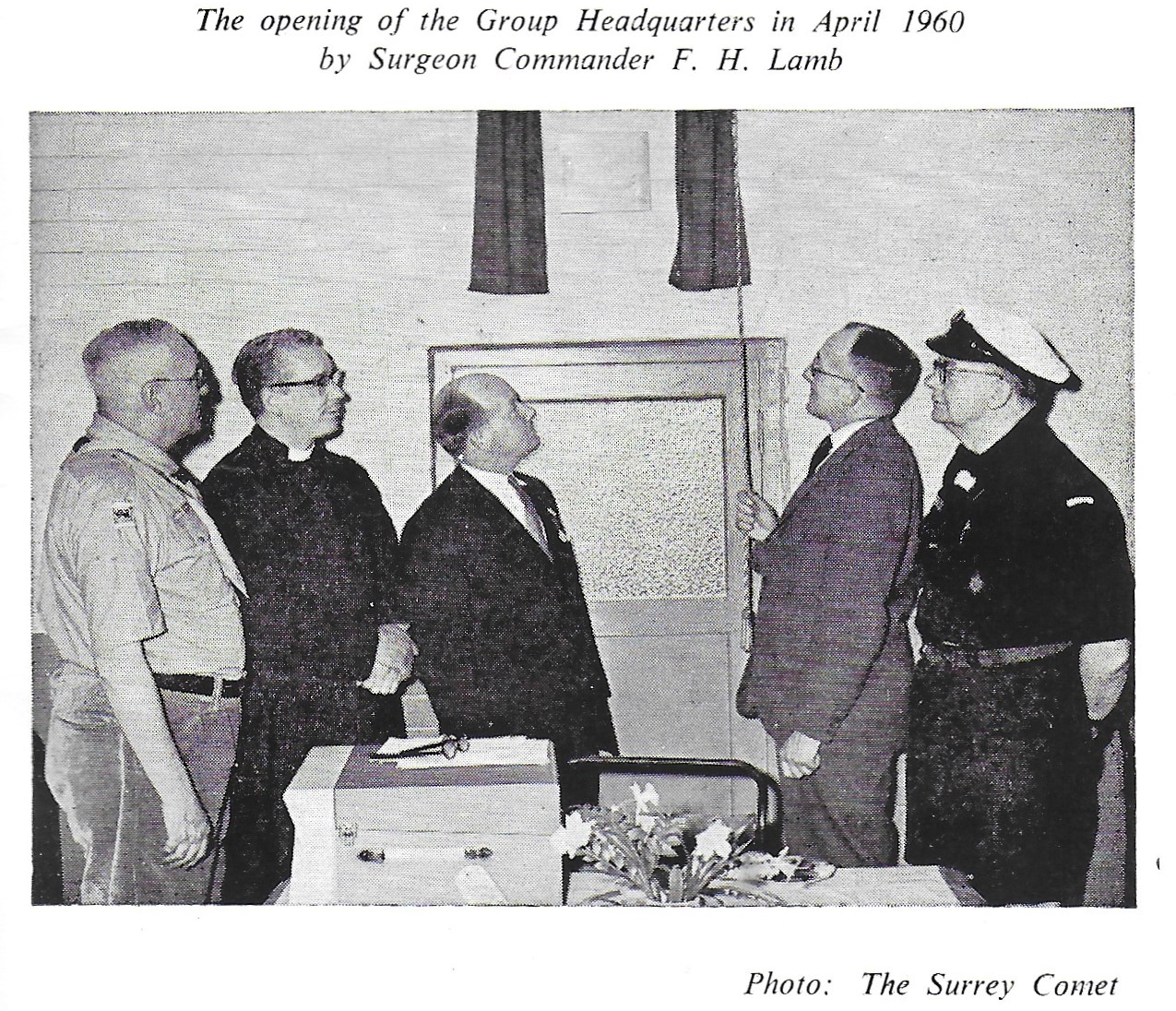 In 1970 the Group were able to complete their Headquarters with the opening of a two storey extension at the rear of the building that provided an equipment store in place of the old garage and instruction rooms.
In the late 1960s, Senior Scouts became Venture Scouts and Rovers reformed as the Service Team.
During the 1970s the Group replaced its fleet of wooden boats with boats with GRP hulls so was able to reduce the maintenance required. In 1979 the Group moved from the Water Works into the Boat House at Thames Ditton. This has enabled the Group expand its fleet to include boats for pulling & sailing, as well as canoes and motor boats so that so many more water based activities are now undertaken.
The Beaver Colony was formed with Sandra Davies as Beaver Scout Leader on September 6th 1990. In this same year the decision was taken that girls would admitted to the Venture Scouts.
Into the 21st Century
2002 brought a further change as Venture Scouts reformed to become Explorer Scouts, and in 2003 the rest of the group went mixed. Today the group is thriving with 4 mixed sections and a supporting team of leaders and other supporters. You can read more about our many current activities on the rest of this site.Early beginnings.